44 In-House Heavy Duty Stamping Presses
Taylor Metal maintains 18 heavy-duty presses of two primary types:
Transfer Presses

Progressive Presses
This allows us to offer wide stamping capabilities as a dedicated, single-source, ISO 9001:2015 accredited manufacturing facility.
Transfer Press Capabilities
Transfer press stamping utilizes one or more dies to produce parts and products with lighter weight specifications. It is preferred for its low initial tooling-setup costs and ability to include features such as cut-outs, ribs, chamfering and piercing in primary operations, which eliminates costly secondary processes.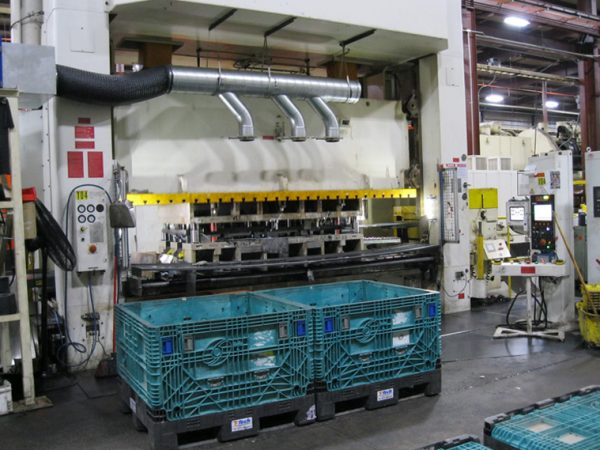 Our transfer presses are capable of working with various types of steel with thicknesses ranging from .015" to .105". With four transfer presses ranging from 400 tons to 1,000 tons, we are equipped to produce consistent volume for a wide range of projects.
Progressive Press Capabilities
Progressive press stamping utilizes a single die with sequential operations to produce precise tight-tolerance parts and products with more intricate designs. It also has a higher per-minute capacity.
Our progressive presses are capable of stamping a number of specialty metals and alloys with thicknesses ranging from .015" to .250". With 16 progressive presses ranging from 220 tons to 1,000 tons, we are equipped to handle nearly any sized progressive stamping project.
As with transfer press stamping, a number of additional processes can be incorporated into a single die, eliminating separate finishing processes such as punching, piercing, embossing, curling, etc.
Tooling Maintenance
Taylor Metal is staffed to maintain all in-house tooling with experienced journeyman tool and die makers. We are equipped with two wire EDM machines to produce tool components. We also have two CNC mills to produce tool components. Surface grinders, manual milling machines and lathes are also utilized to maintain tooling.